Description
Demonfx AT-DS Attack Drive Excellent Response Guitar Effect Pedal
This is Demon's take on the excellent AT Drive.
Pedal includes: Volume, EQ, Drive, Air, and a three-way toggle for 25-watt, 50-watt, or 100-watt modes depending on your set up and location.
The Volume gives you plenty of space to work in, while the Drive control has a wide range from gainy blues to roaring distortion.
The tone controls work together to give you the ability to shape your tone and sit perfectly in a mix.
The EQ works as a standard bright/dark tone control, while the Air control rolls in top end like a presence control so you can have just the right amount of brightness for  clarity.
Use it your way:
The three-way toggle gives you the feel of different wattage amplifiers. The up position is the 25-watt setting with the most compression and saturation with the least amount of volume.
The down position is the 50-watt setting for a good balance of compression and openness.
The middle position is the 100-watt position for tons of volume and open crunch while being less focused.
And the pedal is an independent foot-switchable Boost…essentially creating a second channel and gain stage for the pedal.
The boost side of the pedal is a slightly dirty and overdriven pre-boost that allows you to hit the front end of the  drive channel and achieve more saturation and definition for applications
where you need more.  Since the Boost is independent, it can be used alone to drive your amp or other drive pedals in conjunction with the drive channel.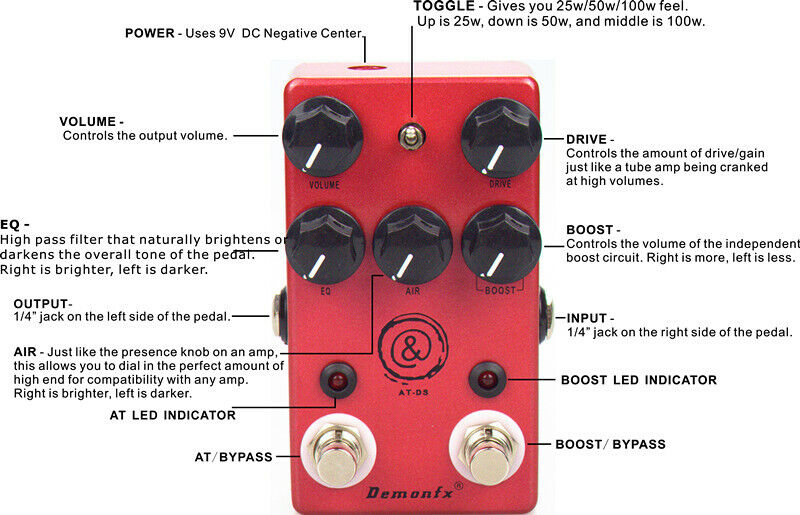 CONTROLS
VOLUME – Controls the output volume.
DRIVE – Controls the amount of drive/gain just like a tube amp being cranked at high volumes.
EQ – High pass filter that naturally brightens or darkens the overall tone of the pedal. Right is brighter, left is darker.
AIR – Just like the presence knob on an amp, this allows you to dial in the perfect amount of high end for compatibility
with any amp. Right is brighter, left is darker.
BOOST – Controls the volume of the independent boost circuit. Right is more, left is less.
TOGGLE – Gives you 25w/50w/100w feel. Up is 25w, down is 50w, and middle is 100w.
JACKS
INPUT – 1/4" jack on the right side of the pedal.
OUTPUT – 1/4" jack on the left side of the pedal.
POWER – Uses 9V  DC Negative Center.
Note:
Power supply not included.
Please use a 9V DC power adapter whose polarity is negative center otherwise, the product may not work properly.
Package List:
1 * Effect Pedal
1 * User Manual ( English )
1 * Year warranty through our store
No Duty No Tax to Canada and USA  ( from this site)
 FAST 'N FREE USA and Canadian Shipping  (typically takes about 4 days or so )
Ships from Canada (depending on stock availability, may also ship from our Niagara Falls NY. location via USPS)
 
*Just to be clear on DUTY, (regardless of any warnings to  buyers  ) Canada and the USA have a trade agreement in place that allows US residents to purchase/import up to $800 dollars per purchase in to the United States from Canada with NO Duty at all, State taxes are another story, some states charge a TAX some do not, BUT NO duty.
Payments