Description
Demonfx CALL76 Compact Bass Compressor Effect Pedal
This is the new  CALL76

BASS

 Compressor that has just released from Demonfx. 
Pretty much hand assembled in small batches.  Quality components and a FULL RANGE OF TONAL OPTIONS.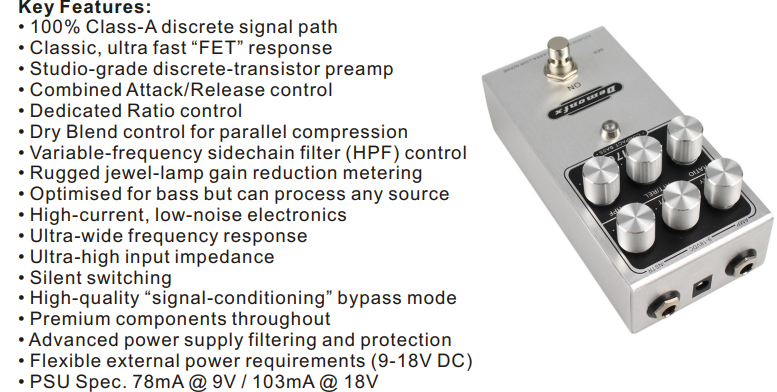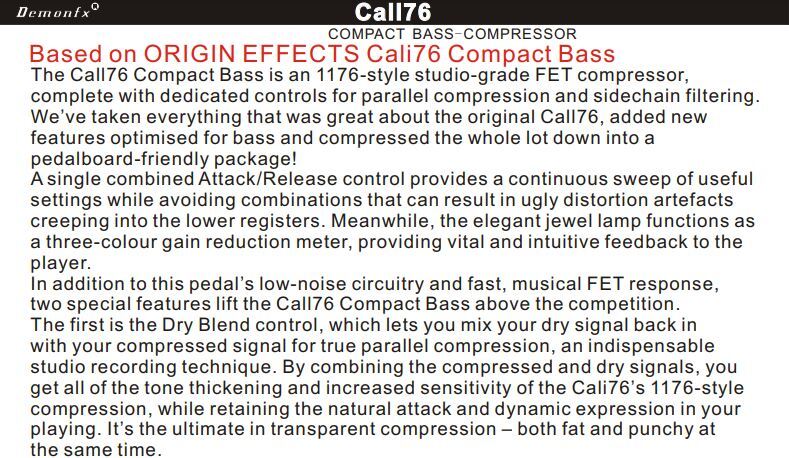 Well worth the price. 
Bringing some of the best sought after sounds at a real nice price.
The inspiration for this unit comes from the super popular unit that has many bass players talking.
The original unit is much sought after and carries a high price tag as well.
Your chance here to capture the spirit of that sound for a fraction of the price.
Note:
Power supply not included.
Please use a 9V DC power adapter whose polarity is negative center otherwise, the product may not work properly.
Package List:
1 * Effect Pedal
1 * User Manual ( English )
1 * Year warranty through our store
No Duty No Tax to Canada and USA  ( from this site)
 FAST 'N FREE USA and Canadian Shipping  (typically takes about 4 days or so )
Ships from Canada (depending on stock availability, may also ship from our Niagara Falls NY. location via USPS)
 
*Just to be clear on DUTY, (regardless of any warnings to  buyers  ) Canada and the USA have a trade agreement in place that allows US residents to purchase/import up to $800 dollars per purchase in to the United States from Canada with NO Duty at all, State taxes are another story, some states charge a TAX some do not, BUT NO duty.
Payments