Description
Demonfx CK Compressor Nice Response with Clip Adjustment Guitar Effect Pedal
This is the new CK Compressor from Demonfx. 
Bringing some of the best sought after sounds at a real nice price.
Responds to players dynamics or taste. Some subtle sweeps or all out wails.
With a little digging you will see where the inspiration comes from on this unit.
Capable in working in almost any musical style or space. Has a clip setting where it can used in line with drum machines, keyboards etc.  But guitar is king and that is where it will find a home for most players.
Control for Level, Sustain, Attack and Clipping.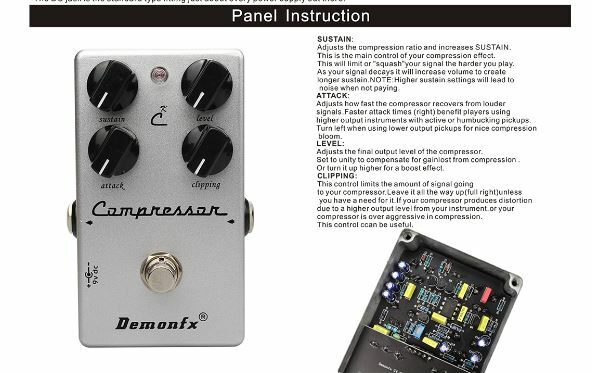 JACKS
INPUT – 1/4" jack on the right side of the pedal.
OUTPUT – 1/4" jack on the left side of the pedal.
POWER – Uses 9V  DC Negative Center.
Note:
Power supply not included.
Please use a 9V DC power adapter whose polarity is negative center otherwise, the product may not work properly.
Package List:
1 * Effect Pedal
1 * User Manual ( English )
1 * Year warranty through our store
No Duty No Tax to Canada and USA  ( from this site)
 FAST 'N FREE USA and Canadian Shipping  (typically takes about 4 days or so )
Ships from Canada (depending on stock availability, may also ship from our Niagara Falls NY. location via USPS)
 
*Just to be clear on DUTY, (regardless of any warnings to  buyers  ) Canada and the USA have a trade agreement in place that allows US residents to purchase/import up to $800 dollars per purchase in to the United States from Canada with NO Duty at all, State taxes are another story, some states charge a TAX some do not, BUT NO duty.
Payments