Description
Demonfx Mini Chorus Toggle options Guitar Effect Pedal
This is the new Mini Chorus from Demonfx. 
Bringing some of the best sought after sounds at a real nice price.
Response inspired by the Analogman Mini Chorus.
The Demonfx Mini Chorus pedal is a warm, shimmery chorus with a distinct voice.
Offering controls for Speed and Depth with an optional Mix knob and Depth toggle switch.
S-(speed)  controls the rate of the chorus.
D-(depth) controls the width of the chorus, from subtle to super deep.
Mix-(blend)" controls the wet/dry blend between your dry signal and the chorused signal.
Mix setting at noon equals a 50/50 blend, but adjusting the  the mix knob allows
you to mix in a very subtle chorus by backing it down from noon. By maxing out the "mix" control, you can even achieve a real nice vibrato effect.
In addition, you can switch between normal and deep with a toggle switch, enabling a deeper chorus sound.
Depth Option: Depth Toggle Switch options
3-position toggle switch
 thick sound
 thin sound
 and regular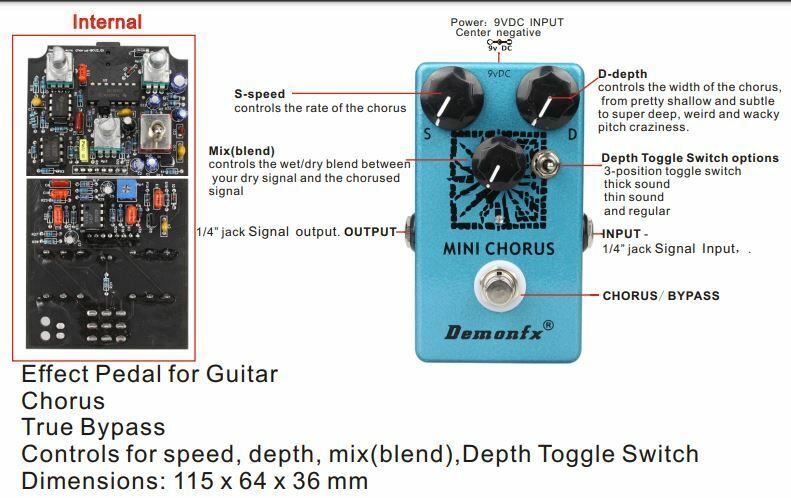 True Bypass
Controls for speed, depth, mix(blend),Depth Toggle Switch
Dimensions: 115 x 64 x 36 mm
Original Design: Japan
Powered by DC9V ,Negative Center (not included)
Note:
Power supply not included.
Please use a 9V DC power adapter whose polarity is negative center otherwise, the product may not work properly.
Package List:
1 * Effect Pedal
1 * User Manual ( English )
1 * Year warranty through our store
No Duty No Tax to Canada and USA  ( from this site)
 FAST 'N FREE USA and Canadian Shipping  (typically takes about 4 days or so )
Ships from Canada (depending on stock availability, may also ship from our Niagara Falls NY. location via USPS)
 
*Just to be clear on DUTY, (regardless of any warnings to  buyers  ) Canada and the USA have a trade agreement in place that allows US residents to purchase/import up to $800 dollars per purchase in to the United States from Canada with NO Duty at all, State taxes are another story, some states charge a TAX some do not, BUT NO duty.
Payments